Top 5 SEO Best Practices (2019)
Here at A10CyberWorks we've built, redesigned, reviewed and tweaked a great deal of websites. Many sites, from small shops to medium and large corporate sites, were missing some of the core SEO check list items that are essential to better ranking. I will list some of the top issues I see most often. I will follow up with steps and links that will help you avoid or fix these SEO problems.
The A10CyberWorks website design process focuses on developing good content and technical aspects of each site, but we also look closely at User eXperience (UX) that is an important component of SEO. This article will identify strategies that lead to good SEO best practices.
#1: Speed matters



Website speed is one of the most often overlooked items for many site designs. Google ranks your site higher the faster your site performs. Google provides a free and useful tool to check site performance: Google PageSpeed Insights. This handy Google tool will give you a good overview of how well each part of your site is performing and suggests overall improvements as well as improvements for each page.
Another great tool at the top of the list of most serious website designers is GTMetrix. This tool has a ton of features and options to make optimizing your website clear and easy. Sign up is free for the basic package or consider GTmetrix Pro for more exclusive features and enhanced monitoring.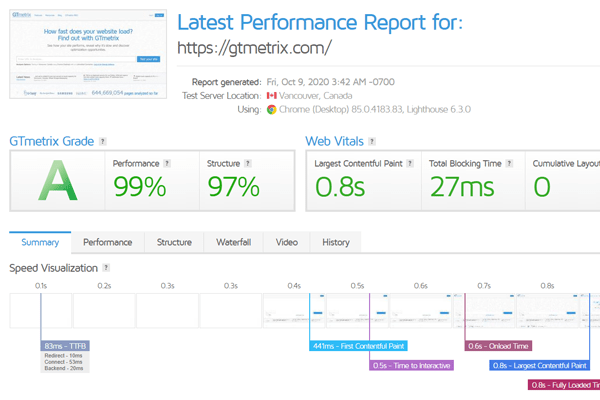 GTmetrix's Report Page neatly summarizes your page performance based off key indicators of page load speed.
One of the best recommendations we can give is to optimize your images. We see a visit a lot of websites that have relatively large images, which account for a lot of the load time for a site. Resizing your images will help speed up your site's load time. If you are developing on a WordPress site, you can find quite a few good plugins that will do this for you.
One of the recommendations we frequently give is to optimize your images. A lot of websites have images that are relatively large, which take a lot of time to load. Resizing your images can speed up the loading time. If you have a WordPress site, you can do this easily by installing a plugin that will automatically optimize images on the fly.
Next is browser caching and GZip compression settings. Both will speed up your entire site. Browser caching makes your site load faster for returning visitors and the GZip compresses static files, which makes them faster to load into a browser.
#2: Get to know AMP (Accelerated Mobile Pages)



Starting in 2018 Google put more emphasis on mobile-first-indexing. Google looks at the mobile version of your site to determine how high to rank it. Your desktop version of your site might be a work of art, but if your mobile site isn't user friendly or responsive, you will have to dig in deep to meet this requirement.
Take a look at What is Google Amp? by Hubspot for more information about Google AMP.
To see if your site is mobile friendly use Google's mobile-friendly online test. This test will tell you if your site will display properly on mobile devices of varying sizes. You should also test this yourself by opening your site on a couple of mobile devices just to experience what visitors will see. Be sure to test different features of your site by clicking on every button and link to see what happens. If you have a payment gateway on your site to sell products and services you should test the entire payment process to make sure nothing breaks or is confusing to potential customers. If you run in to problems here, you will want to spend some time fixing and tweaking your site.
Backlinko has a great and easy to download PDF that covers everything about mobile SEO: Mobile SEO – The Definitive Guide.
#3: Google keyword ranking
To rank well with Google you have to make certain that every page has the right keywords. We frequently encounter site owners who are optimizing for keywords that are much too generic to be effective. If your site builds PC's and you want to rank for 'PC builder', you will find it difficult to compete with larger companies selling the same service around the globe. Using 'long-tail' keywords works better in this case by adding location information or other unique attributes.
Using 'long tail' keywords that are more specific increases your odds of ranking for that keyword. However, the search volume for that specific keyword will decrease as a result. You can make up for this by optimizing all the pages for your site with unique and different 'long tail' keywords. You will eventually see more traffic for all the keywords combined. The drawback in minimal and the only way to get noticed as a site that builds PC's.
One of the essential elements of SEO is picking the right keyword, making them rank & track the keyword position in search.
It is absolutely necessary for a blogger or SEO professional to check their Google keyword ranking for target keywords. One of the most common mistakes bloggers and website administrators make is that they write and publish articles without targeting any keywords at all.
It takes only 10-15 minutes to use a keyword research tool like SEMRUSH or the Accuranker to find which keywords to use. Make sure you take advantage of these tools in order to accomplish this very important step!
Once you are finished writing an SEO-optimized post using your target keywords, your next task is to keep track of its search engine rankings and to continue building backlinks with the proper anchor text.
SERPs is another popular free Keyword rank checker tool which shows more than search engine position. Along with search engine ranking it also shows CPC and search volume data, for any keyword or phrase.
#4: The importance of metadata descriptions
When someone queries Google, the search engine result pages (SERPs) return metadata related to websites with that content. Google displays the title of the page and its meta description. The page title is an important ranking factor for Google, make sure it is optimized properly for every page on your site. Use page specific keywords that is contained in the content of each page. Be careful that the page title is not too long though. If it is too long (400 to 600 pixels) Google will cut it off. When your site comes up in a search you want potential visitors to be able to read the full title.
Though the meta description is not used as a ranking factor, it is a key part in optimizing for your Click Through Rate (CTR). Tracking your CTR will give you a good idea of how likely SERP results will result in an actual click to your site. If your meta descriptions are well defined and shows what visitors will find on your site, visitors will find it useful in connecting with what they are looking for on your pages. If this comes together well, your traffic will pick up substantially.
#5: Content, content, content
It's a common mistake that we all make. We think of and treat website visitors like folks who like to read. We treat our visitors just like readers of print content. This approach is completely wrong. Website content is absolutely different than print copy and is not read the way print copy is read.
Website content is scanned, glanced at and not commonly read like print copy. Just about all website visitors are looking for specific information, just like shopping for products. Website visitors will make quick decisions based on a lot of factors without much thought to web content. You must figure out how to connect with them based on your content. This will lead them to take action even if they don't read your web content.
Use a few good tips to make your content web-friendly that will connect with visitors. Put your most important information right up front. This should be the first thing a visitor sees. You have just a few seconds to connect with your visitors before they bounce to the next search result. Don't try to write content that is too crafty or clever as this will not come across as useful to your visitors.
Use words that are common that are closely related to what you are trying to sell or convey. Your visitor is looking for something. Be sure to write about what they are looking for.
Typical print copy readers start from start to finish. Web copy readers focus on keywords anywhere in the content. Keep in mind that your content needs to connect with visitors no matter where they start reading. So your content needs to be simple and to the point.
Visual presentation is still important when writing web content. Use visual content that is closely in line with the theme and colors of your site. Visitors will be put off by visual designs in your content that does not match the style of your site.
You don't need to think of Google as your audience. Keep focused on your visitors and not for Google. Write quality web content for your audience and Google will reward you with increased traffic.
Once you attract new visitors, you need to keep them on your site. You don't want them bouncing to the next Google query link after reading web content on your site.  This is where call-to-action (CTA) content comes into play. You content should invite and entice visitors to click through your site. The best way to do this is to create a call-to-action (CTA) link on your page, which usually is a button that links to an offer or enticement for visitors. This can be as simple as a Buy Now button on a product page, or a newsletter sign-up button or link.
Be sure to include at least one CTA on all pages of your site. But be careful not to overdo it with buttons all over the page. This can turn off users and make your entire site look cheap and unprofessional.
I hope these simple but useful tips help you to design great websites with excellent SEO attributes.